HR Consultancy Services Oxford
Understanding and fulfilling your HR responsibilities is complex and tedious, especially when you should be concentrating on your business. We remove all the work and stress with our HR services in Oxford, protecting your company and leaving you to work on more important tasks.
Talk to our Warwickshire team.
To give you flexibility over our service, we offer affordable retainers and ad hoc support. You receive a bespoke plan that addresses your business's needs and goals.
Retainer support
Most businesses have monthly HR responsibilities that need to be fulfilled. We set a monthly service time to complete these tasks and let you concentrate on your business.
Ad Hoc Support
We are your HR hero: there whenever you need us. If a problem arises or your business needs a change, simply call on our team for our expertise.
We can able to help businesses throughout the United Kingdom with specialist HR support and solutions tailored to your individual needs. Our teams and offices in Warwickshire, Worcestershire, London and Birmingham are strategically placed to provide local support.
Our experts are here to take care of all your HR responsibilities. Here are just some of the services that we offer as part of our HR support packages:
Employee Relations Management
A healthy workplace culture breeds success, so we implement effective systems to monitor your employee's welfare and resolve conflicts easily. That way, your employees buy into your culture and goals, so they work harder to achieve them.
Employee Well-Being Support
Workplace Handbooks and Policies
You are legally required to have employee handbooks, policies and contracts in place. However, they are complicated, and you must include the correct information. We remove all the uncertainty by drafting the essential employee documents that protect your business.
HR Compliance Checks
Ensuring that you are compliant with your legal obligations takes time and due diligence. We take that responsibility and stress off your shoulders with regular compliance checks.
Absence Administration
Managing your employees' annual and sick leave helps you plan effectively. Our absence management systems collate everyone's calendar into one place so employees can easily request time off, and you can easily grant it without putting pressure on other teams.
Performance Management and Training
Training your employees helps your business grow. Our experts recommend the best performance management systems to track goals and performance and implement effective training plans that upgrade your teams.
Recruitment
Hiring new employees is tough. Getting someone with the right qualifications that fit your culture can feel impossible. Not for our recruiters. They uncover the best talent and will only ever provide ideal candidates. Plus, we can optimise your interview process and manage all the onboarding.
Disciplinary Process
Dismissals and disciplinary processes are fraught with legal hurdles. Our experts are available anytime a problem arises to resolve them quickly whilst protecting your business.
To make managing your workforce easier, we use various pieces of HR software that you and your employees can access. We offer BrightHR: an online platform to manage absences, leave, and training. Everything you need is all in one place.
It also gives your employees access to Bright Health to support their physical and mental well-being, ensuring that they have everything they need to be able to come to work happy and healthy every morning.
Supporting you through your journey
We establish a lasting partnership with every company we work with to set them up for long-standing development and success. By understanding your structures, people and goals, we support you and push your business to new heights as you grow. 
When you have just started your company, we find candidates that can help it take off. Then, we provide employment contracts, policies and handbooks to keep you compliant.
As your business grows, we optimise your workplace culture so that it develops with you and keeps pushing your progress.
Once you are completely established, we recommend the best ways to structure your teams to streamline processes and management, maximising your output.
Why Choose Our HR Services in Oxford?
We have carefully crafted our team and services to deliver the very best support. Here's why Oxford businesses love us:
Specialist Team
Our 36 CIPD-qualified HR professionals have seen every HR issue possible. With decades of combined experience, you can rest assured that we will always have the answer to your queries. Discover our profiles to learn about our backgrounds.
HR Partnership
We believe in partnerships and will learn everything about your business so that we can support your development indefinitely. You receive a dedicated specialist as your first point of contact. That way, there is always someone available when you have a concern.
Bespoke Support
There are no cookie-cutter packages. You receive HR support tailored to your business and needs. After all, you are unique and deserve a unique service.
Past Successes
In the past, by improving our clients' workplace culture and HR systems, we have halved their employee turnover rates, saving them time and money on recruitment.
We let our clients tell you what they think. Read their reviews to learn about their experiences…
Clover HR acted for a member of my family on an employment matter. The communication throughout the process was first class and a very fair settlement was agreed with the employer on our behalf. We would recommend Clover HR without hesitation.
Clover HR have been a great support for us as we grow, and couldn't reccomend them enough for SME HR support.
Odyssey NewMedia
2022-10-28
We were recommended to Clover HR by a client and we've been really pleased with the service provided. They've helped us review and update all of our HR documentation, contracts as well as providing invaluable advice and support when it comes to interviewing and hiring new staff members. We would recommend Clover HR to anyone needing HR services.
We recently used two Clover HR Consultants to help us through a busy period. They instantly felt like they were part of the team, Did any task we asked of them efficiently and with effectively. We would definitely work with them again. Thank you Clover HR for your support.
I can not recommend Clover HR highly enough and their unfaltering support through an extremely difficult and challenging time for me. The excellent advice and support that I received from Michael and Lynn was second to none, they were incredibly fast at replying to any queries or concerns and extremely helpful and friendly at all times. Even now that my situation has come to a close, I received a message from Michael checking how I am which is indicative of the level of support that this company give. Clover HR are a 5 star company that I will most certainly be recommending to all my clients moving forward.
Very kind and informed, super quick and helpful! Thank you!
Francesca Sharp
2022-04-23
Michael was very fast at replying to my query and gave excellent feedback and professional support, allowing me to understand my rights and the law as an employee, so I could take the relevant next steps needed.
I was very pleased with Clover HR for their very quick response to my employment issue and helpful, thorough and supportive guidance provided.
Very very helpful and will help me resolve my work issues for sure. Would highly recommend for help and advice in the further, Keep up the good work.
Heather Jevons
2022-03-02
Would highly recommend Clover. Michael was extremely helpful and friendly. The advise I received over the last fortnight has helped me through a really difficult time. Genuine impartial advise, very professional and couldn't have done it without you. Huge thanks again-especially to the lovely Michael Doolin x
To benefit from our HR services in Oxford and boost your business's productivity, contact our experts. We are happy to answer your questions or get you started today.
To be outstanding, trusted people
advisors and partners to business every
day
Through honest, focused, responsive and innovative HR support, we will transform people problems to solutions, enabling our clients to be employers of choice with an engaged and motivated workforce.
CLOVER HR LATEST NEWS & ARTICLES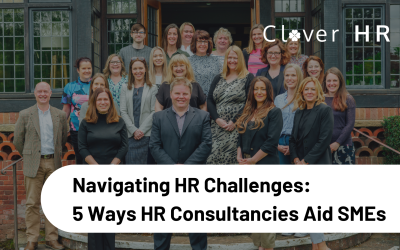 Navigating HR Challenges: 5 Ways HR Consultancies Aid SMEs In the fast-paced and ever-changing...