supporting our local community
…and supporting not only local businesses but also charities too. We are delighted to be supporting Ronald McDonald House Charities, and the incredible work that they do.
We often take part in their organised events, including the house to house challenge and the pyjama day! We are also hoping to hold a charity golf day in the near future.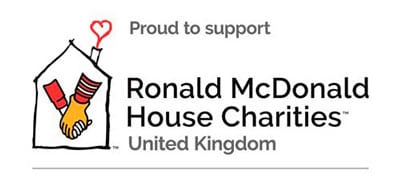 "At Clover HR we are committed to giving something back within our local community and supporting not only local businesses but also charities too.

We initially became aware of the fantastic work RMHC does through an employee who used the charity. We were inspired and humbled by the phenomenal efforts of everyone at RMHC to provide a 'home away from home' environment for families in their time of need.

We're very much looking forward to getting stuck in and have a calendar of fundraising activities planned so we can raise as much money as possible."
– Charlotte Leigh, Operations Director
who are Ronald McDonald House Charities UK?
"Your child is critically ill and needs urgent specialist care." The words that can shatter whole worlds. Immediate thoughts turn to survival and outcomes.  Your nearest specialist hospital may be hours away. But what about the journey? Where will you sleep when your child is in the hospital? Where will you eat? Who can you talk to? How will we cope?
Founded in 1989, Ronald McDonald's House Charities (RMHC) UK's vision is for every child in hospital to have their families close by, and that those families are fully supported and actively involved in their child's care. Our mission is to work with our partner specialist children's hospital across the UK to offer free, homely and supportive accommodation for families.
 We've kept over 50,000 families together over the past 30 years.  We have 11 Houses across the UK that supported 5,720 families in 2019 offering a "home away from home" at no cost to stay.  On average a family would stay in one of our Houses for 17 nights and need to travel and average of 99 miles.  However some families stay months or even years. 
When a child is receiving specialist medical care at hospital, a parent's priority is to be by their side. Ronald McDonald House Charities, keeping families close together in hospital since 1989.
For more information on Ronald McDonald House, please visit their website:
We have offices all over the country and are able to help you with any of your HR needs wherever you may be.
Whether you're a small business or large enterprise, we have a solution for you. Please use the contact form, on the left, to make an enquiry or click here to find the number to call your specific city.
Call: 0121 516 0299