Hr services IN STAFFORDSHIRE
If administrative tasks are holding you back from growing your business, our HR consultants in Staffordshire can help. With a team of 36 experienced, CIPD-qualified HR professionals, we have all the necessary expertise to handle and optimise your internal administration so that your business moves forward.
When you choose our support, you receive an HR partner, ready to create a healthy working environment, install modern employee management software and systems and explain the best ways to grow your business. Your productivity and profits will skyrocket, and you will be able to devote your time to more pressing tasks.
Talk to our Warwickshire team.
Is Outsourced HR Support Right For You?
Businesses choose to outsource their HR duties for many reasons. With our HR consultants in Staffordshire, we remove the pressure of managing your internal systems, leaving you to focus on the bigger picture. You benefit from the following:
Clear employee progress management
Optimised business strategy
Flexible problem resolution
Decreased staff turnover rate
Straightforward payroll and absence control systems
Our HR consultants provide specialist, tailored support to businesses across the Midlands, helping them overcome their individual hurdles. We have teams strategically placed and ready to help in Nottingham, Leicester, Birmingham and Warwickshire.
OPTIMISING YOUR BUSINESS STRATEGY
Planning the next steps for your business is one of your most essential duties, but it can also be the hardest. Work with our specialists to create specific strategies that propel your business and save you hours of headaches.
Establishing Your New Target
Setting goals is critical. We help you understand where you want to go and how to get there by setting up quantifiable metrics and progress plans that ensure you advance quickly and efficiently.
Creating A Healthy Working Culture
Your business starts with your people, and keeping them happy is the best way to increase productivity. We can explain the best benefits and structures to inspire your teams and keep them working hard.
Track Your Progress
With goals and processes decided, all we need to do is monitor the results. We can adapt your procedures and drive improvement by identifying successes and shortcomings. You will always understand the next step and how to take it.
In the modern workplace, you need software to track your teams' absences, streamline reports and organise critical documents. When you choose our services, we have all the knowledge and resources to help. 
You can vastly simplify your workplace management by using an HR management system. When an employee wants to use their annual leave, they can easily log onto your system, see when other employees have taken their holiday and plan their absence around the team to ensure that you always have appropriate staff levels. 
We also have systems available to help you manage your payroll and expenses, meaning that you can track spending and reimbursements all from one place.
When the time comes to monitor performance, having software that can compute and translate data dramatically improves your understanding of each employee's contribution. You can use this information to tailor training programmes so that your teams develop skills that enhance the business's performance.
Staffordshire HR Consultants
Choosing the best HR agency for you can be a challenge. At CloverHR, we have an individual approach that helps us beat our competition. Here's how we boost your business:
A Committed HR Partner
We pride ourselves on building lasting relationships with our clients to help them overcome everything the world throws at them. We take the time to learn about your business so that we can create and implement strategies quickly whenever you need them.
Experienced Qualified Specialists
Our team is the lifeblood of our agency, and we have carefully selected the best professionals to help you. We have 36 CIPD-qualified HR experts who have dealt with almost every issue imaginable. Their knowledge is second to none, and they are more than ready to tackle any problem you face.
Tailored Programmes
Cookie-cutter systems do not work. Whenever a business approaches us, we provide unique solutions to fit their situation. We consider your operations and then create a custom programme that addresses all your concerns, ensuring that your business receives the support it needs.
A Track Record Of Success
Everything we do is driven by you. We measure our successes using your goals to ensure that you are more than happy with our services. If you want to learn about how we have helped our previous clients, please read our reviews.
Explore our latest Google Reviews!
Clover HR acted for a member of my family on an employment matter. The communication throughout the process was first class and a very fair settlement was agreed with the employer on our behalf. We would recommend Clover HR without hesitation.
Clover HR have been a great support for us as we grow, and couldn't reccomend them enough for SME HR support.
Odyssey NewMedia
2022-10-28
We were recommended to Clover HR by a client and we've been really pleased with the service provided. They've helped us review and update all of our HR documentation, contracts as well as providing invaluable advice and support when it comes to interviewing and hiring new staff members. We would recommend Clover HR to anyone needing HR services.
We recently used two Clover HR Consultants to help us through a busy period. They instantly felt like they were part of the team, Did any task we asked of them efficiently and with effectively. We would definitely work with them again. Thank you Clover HR for your support.
I can not recommend Clover HR highly enough and their unfaltering support through an extremely difficult and challenging time for me. The excellent advice and support that I received from Michael and Lynn was second to none, they were incredibly fast at replying to any queries or concerns and extremely helpful and friendly at all times. Even now that my situation has come to a close, I received a message from Michael checking how I am which is indicative of the level of support that this company give. Clover HR are a 5 star company that I will most certainly be recommending to all my clients moving forward.
Very kind and informed, super quick and helpful! Thank you!
Francesca Sharp
2022-04-23
Michael was very fast at replying to my query and gave excellent feedback and professional support, allowing me to understand my rights and the law as an employee, so I could take the relevant next steps needed.
I was very pleased with Clover HR for their very quick response to my employment issue and helpful, thorough and supportive guidance provided.
Very very helpful and will help me resolve my work issues for sure. Would highly recommend for help and advice in the further, Keep up the good work.
Heather Jevons
2022-03-02
Would highly recommend Clover. Michael was extremely helpful and friendly. The advise I received over the last fortnight has helped me through a really difficult time. Genuine impartial advise, very professional and couldn't have done it without you. Huge thanks again-especially to the lovely Michael Doolin x
Create A Productive Culture Today
Whether you need to increase your teams' output or develop a new strategy for the coming years, our HR consultants in Staffordshire are here to help. Contact our friendly team to ask any questions, learn more or enlist our support.
To be outstanding, trusted people
advisors and partners to business every
day
Through honest, focused, responsive and innovative HR support, we will transform people problems to solutions, enabling our clients to be employers of choice with an engaged and motivated workforce.
CLOVER HR LATEST NEWS & ARTICLES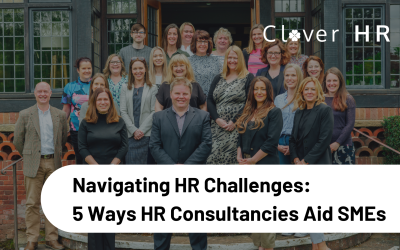 Navigating HR Challenges: 5 Ways HR Consultancies Aid SMEs In the fast-paced and ever-changing...