HR Consultancy Services Newcastle
When working on your business, HR issues can be an unnecessary complication. Unfortunately, you have to protect the company and fulfill your legal obligations. Our HR specialists are here to take that pressure away.
At Clover HR, we help you get a grip on your HR responsibilities so you can maximise your time and keep growing. You receive all the necessary expertise to handle HR issues and responsibilities to boost workplace productivity.
Talk to our Warwickshire team.
For some businesses, an in-house HR specialist is not cost-effective. We help these companies by providing specialist third-party HR support so that they can protect themselves and get the most out of their teams.  
Our retainers provide monthly services, such as drafting new policies and handbooks or managing performance reviews. Then we are also available at all times to resolve any pressing issues. After all, you never know when they will arise.
Our professionals provide businesses throughout the UK with diverse HR solutions, ensuring thorough support tailored to their specific needs. Our committed teams, strategically positioned across the North of England in Yorkshire, Leeds, Manchester and Nottingham, are ready to assist whenever you require us.
When you come to us, we handle every facet of HR with a broad range of services. Our specialists offer:
Handbooks, Policies and Guides
Employee handbooks and guides are legal requirements, although you may not know what they need to include or have time to draft them. We do all the work for you and provide employee documents that protect your business.
Recruitment
When your time is tight, you cannot waste it on poor candidates. Our recruiters will only ever supply candidates that can improve your business by finding the best CVs and connections. Then we can sit and optimise your interviews and handle all the onboarding.
HR Compliance Checks
With all your daily tasks, legal responsibilities can feel like a forgotten whirlwind. It's our job to prevent that from hindering your growth. We ensure that the necessary processes, documents and policies are present.
Disciplinary Hearings
Problems can always arise, so we help you investigate and rectify them. With our help, your business is protected from legal claims, letting you get back on track.
We offer HR support with affordable retainers, providing protection and system optimisation whilst saving you money. From as little as £300 per month, we can look at a nurture package for your business. Please do contact us for more details on prices and packages.
We are immensely proud of our HR team. With 36 CIPD-qualified HR professionals and dozens of years of combined experience, we will always have the essential advice and support you need.
When you approach us, you receive a dedicated HR specialist to manage our relationship and support you at all times. You can discover our profiles to learn about our extensive experience.
Our HR services in Newcastle help dozens of companies. Here are some of the things they love:
Specialist Support
Our 36 HR professionals provide industry expertise in almost any situation your business is in. You will always have critical support, giving you peace of mind. No matter the question, we have the answer.
Long-Standing Partnership
We invest our time in your businesses, learn everything about you and establish bulletproof partnerships that benefit you for years to come. Whenever you have a concern, we already know everything required to help.
Bespoke Service
Every business is an individual and we treat you that way. You receive a bespoke service that accounts for all your needs and timelines for your HR journey so that your business will grow for years to come.
HR Resources
When you work with us, we provide all the necessary HR resources to not only up-skill yourself and your team but make managing your business easier. From HR systems to handbooks to training plans, we have them ready for no additional cost.
Our clients can explain what it's like to work with us better than we ever could. Read what they have to think about our team and their support.
Clover HR acted for a member of my family on an employment matter. The communication throughout the process was first class and a very fair settlement was agreed with the employer on our behalf. We would recommend Clover HR without hesitation.
Clover HR have been a great support for us as we grow, and couldn't reccomend them enough for SME HR support.
Odyssey NewMedia
2022-10-28
We were recommended to Clover HR by a client and we've been really pleased with the service provided. They've helped us review and update all of our HR documentation, contracts as well as providing invaluable advice and support when it comes to interviewing and hiring new staff members. We would recommend Clover HR to anyone needing HR services.
We recently used two Clover HR Consultants to help us through a busy period. They instantly felt like they were part of the team, Did any task we asked of them efficiently and with effectively. We would definitely work with them again. Thank you Clover HR for your support.
I can not recommend Clover HR highly enough and their unfaltering support through an extremely difficult and challenging time for me. The excellent advice and support that I received from Michael and Lynn was second to none, they were incredibly fast at replying to any queries or concerns and extremely helpful and friendly at all times. Even now that my situation has come to a close, I received a message from Michael checking how I am which is indicative of the level of support that this company give. Clover HR are a 5 star company that I will most certainly be recommending to all my clients moving forward.
Very kind and informed, super quick and helpful! Thank you!
Francesca Sharp
2022-04-23
Michael was very fast at replying to my query and gave excellent feedback and professional support, allowing me to understand my rights and the law as an employee, so I could take the relevant next steps needed.
I was very pleased with Clover HR for their very quick response to my employment issue and helpful, thorough and supportive guidance provided.
Very very helpful and will help me resolve my work issues for sure. Would highly recommend for help and advice in the further, Keep up the good work.
Heather Jevons
2022-03-02
Would highly recommend Clover. Michael was extremely helpful and friendly. The advise I received over the last fortnight has helped me through a really difficult time. Genuine impartial advise, very professional and couldn't have done it without you. Huge thanks again-especially to the lovely Michael Doolin x
If you want to increase your business output whilst protecting yourself, contact our team today. We can explain more about our HR services in Newcastle and highlight how we will help your business succeed.
CLOVER HR LATEST NEWS & ARTICLES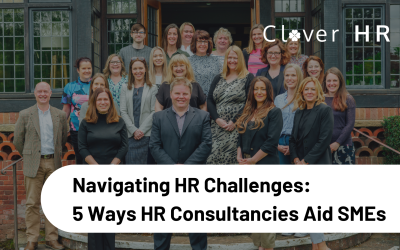 Navigating HR Challenges: 5 Ways HR Consultancies Aid SMEs In the fast-paced and ever-changing...