disagreements in the workplace?
The cost of conflict to UK employers is 32 billion pounds a year in lost working days according to the Chartered Institute of Personnel and Development. Using external workplace mediation services can help reduce and resolve the conflict between employees in your company or organisation and represents a speedy and cost-effective solution.
Here at Clover HR, we have a team of trained, qualified HR mediators who provide professional and confidential mediation services to resolve workplace disputes without the need for formal legal proceedings. We have extensive experience reaching favourable outcomes in employment conflicts at all levels of the business hierarchy.
To find out more about how our mediation service can help, contact us now on 0121 796 3191 or by email at info@cloverhr.co.uk
of employees in the U.K. experience interpersonal conflict at work in an average year
of employees have witnessed absence or sickness due to conflict
Benefits of choosing Clover
Resolving conflict in the workplace
CIPD Report on Managing Conflict in the Modern Workplace (January 2020), found in a survey of employees, 35% had experienced some form of interpersonal conflict either from an isolated dispute or ongoing difficult relationships in the past year.
Although most companies and organisations have a grievance policy that employees can use, the problem with this process is that it rarely gets to the root cause of the conflict and it can polarise the parties creating a blame and litigation culture. If things go badly wrong and an employee takes a case to an Employment Tribunal, the average cost to an employer dealing with a tribunal case is £20,000.
Unresolved conflict costs a lot more than just money. It leads to a decline in performance, increased absenteeism, decline in employee well being and it presents a threat to business effectiveness, reputation, customer experience, team working and competitive advantage.
What is the solution?
Our workplace mediation services offer a non-adversarial system for resolving such conflicts and disputes. By addressing the cause of the issue itself, our trained mediators can not only spare you the stress, reputational impact and high costs associated with the legal processes but we can also help you avoid such disputes in the future.
LEARN MORE ABOUT MEDIATION
How do our workplace mediation services work?
We provide a workplace mediation service to companies and organisations across the UK. The mediation process is completely voluntary and confidential. Our qualified mediators are trained to create a safe space where the two parties can communicate their issues and be supported to engage in adult to adult interactions, resulting in an agreement being created regarding how they will engage with each other going forward in order to resolve their differences.
At Clover HR we work with companies and organisations from all sectors and have experience of successfully completing meditations for every level of employee including Directors and Heads of Departments. Here's what you can expect from our workplace mediation services:
Mediations can be arranged and provided quickly
Our Mediators have The National Certificate in Workplace Mediation and are TCM qualified
Mediations usually take place over one day
Follow-up support is provided for six months following the mediation
If you are a company owner or a HR Manager who is dealing with a conflict and needs some external support please contact us at Clover HR for a no-obligation discussion to gain further information about the workplace mediation services.
LEARN MORE ABOUT MEDIATION
What happens in workplace mediation?
Workplace mediation is a voluntary, confidential process. The role of the mediator is to act as a non-judgemental facilitator of the process, creating a safe, constructive environment for both parties.
The process involves the manager or business owner speaking to the two employees in conflict to explain about mediation and to gain agreement to explore the concept further.
The mediator would then speak to both parties, discover the main issues, explain the mediation process, establish if mediation is the correct option and if it is, gain agreement to mediate.
Most mediations can be completed in one day either in person or via zoom.
The mediation process includes an individual meeting with each person to discuss what the issues are and to find out what they want to achieve from the mediation.
Following the individual meetings if both parties agree, a joint meeting will then be held with both parties, facilitated by the mediator with established ground rules which will give each party an opportunity to talk about the issues and to establish what and how they want things to change.
The mediator will help both parties to form an agreement which will define how they will work together constructively in the future.
Both parties will sign the agreement and the mediator will notify the manager or business owner that the mediation has taken place and if both parties agree, share a copy of the agreed actions.
The mediator will follow up with both parties for a period of 6 months to offer support and to check that both parties have been able to stay within the agreement.
How effective is Mediation?
Research from the CIPD suggests that mediation is successful in 90% of cases.
What happens if they can't agree in the Mediation?
If the parties to the mediation are unable to agree a way forward that will lead to a constructive working relationship, then the mediator will advise them of this and will finish the mediation. The mediator will then inform the manager or business owner that the mediation did not lead to an agreement. The manager or business owner may then decide to use internal processes such as a grievance procedure to try to establish what the issues are and what corrective action may need to be taken. Mediations have an incredibly low failure rate, as little as 10%. By contrast using grievance procedures brings situations to a resolution in less than 25% of cases
Your local HR support company
Getting it right – first time, every time, is our aim.
We understand that every client is unique with their own individual strengths, weaknesses and challenges. At Clover HR we do not operate a 'one-size-fits-all' approach but take time to get to know you, to discover what makes you truly great, learn where there is room to develop and understand the specific challenges you're facing.
Once we have been on that journey, we then work with you to create a roadmap of support so you can get the very best out of your people and have peace of mind knowing that we are walking alongside you. We will help you put the right contracts, documentation and processes in place to ensure that you, and your team, have the right frameworks of support and a sound legal foundation on which to move forwards.
We don't just simply help managers and leaders to become legally compliant employers. We form strong relationships with our clients and actively partner with them to deliver positive change, creating a culture that gets the very best out of their people within a framework that protects both employer and employee.
WHAT CLOVER MEDIATION OFFERS
Our workplace mediation services offer a non-adversarial system forresolving such conflicts and disputes. By addressing the cause of theissue itself, our trained mediators can not only spare you the stress,reputational impact and high costs associated with the legal processesbut we can also help you avoid such disputes in the future.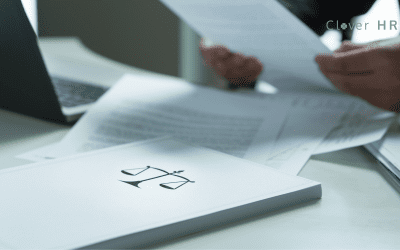 Employee absence is a significant cost for many businesses, yet research suggests that only a...
To be outstanding, trusted people
advisors and partners to business every
day
Through honest, focused, responsive and innovative HR support, we will transform people problems to solutions, enabling our clients to be employers of choice with an engaged and motivated workforce.
looking for something else?