Absence Management is a crucial HR service that efficiently handles employee absences through systematic tracking and compliance with policies and laws. It fosters productivity, minimises disruptions, and enhances employee well-being.
Talk to us about your people problems.
Is absence causing disruption in your business?
Employers should not underestimate the cost of non-attendance in the workplace; this should be a focus for any employer. The impact can range from easy to measure costs, such as statutory or company sick pay and temporary cover, through to others such as the loss of the absentees' experience and knowledge and the impact of the absence on other colleagues.
All employers will recognise that employees may need time off for a variety of reasons including short term sickness to longer term health issues.
However, effective attendance management involves finding a balance between providing support to employees with health conditions whilst taking consistent and firm action in a minority of cases where employees choose to take advantage of an employer's sick pay scheme.
Effective absence management is so important especially within a small business, as a high absence rate can add to other employees workloads potentially causing them stress, which in turn can have an impact on morale and productivity.
the average number of sick days per year
days are lost per business, every year, to colds and flu
Delivering superb HR consultancy services
ABSENCE MANAGEMENT SERVICES
Produce an Effective Absence Management Strategy
Starting with a review of your sickness absence policy, ensuring that all considerations under legislation including the Equality Act 2010, Access to Medical Records Act 1988 and the Data Protection Act 2018 are included. We will ensure you have a practical and robust approach to absence management, you will know what your obligations are as an employer and how to avoid the pitfalls. We will guide managers on how to effectively manage absence, and support them with on-going training and guidance to support attendance in the workplace.
Managing Long Term Absence
Timely and effective management of a long term absence is key, we can guide managers through the process. 
We partner with the right suppliers within the fields of occupational health provision and health and safety management to enable your employee to return to work within a reasonable timeframe. If this isn't possible we will advise on the correct steps to take.
Absence Monitoring through HR Software
Its unrealistic to think one of your employees will never have a day off sick, but its important to keep a record of absence to detect any underlying issues or trends. As absence can be a significant cost to your business, its important to deal with it proactively, and our software partner, Breathe HR, enables you to do just this. Not only does it monitor absence, but it enables you to keep all documentation in one place, produce reports and makes automatic Bradford Factor calculations, which makes life a lot easier when monitoring absence.
What should an effective absence management policy include?
A good absence management policy needs to support the needs of the business, while supporting employee's health and welfare too. An effective absence management policy supports employees with health issues, to either remain in work or to return to work as soon as they can.
An absence management policy needs to:
Have clear guidelines set out, on what absence is.
Detail how any absence should be reported and to whom.
State how it will be dealt with and any action that may be taken against an employee.
Should also state what is classed as unauthorised absence and how that will be dealt with too.
Provide details of any company sick pay and how this will be paid to an employee.
Inform employees of when they will need to self-certify and when they will need a fit note from their GP.
Detail trigger points for disciplinary action under the policy.
Include information about return to work interviews.
Include information on when an employee may be required to see an occupational health professional.
Differentiate between short-term and long-term absence.
We have a sick employee who seems unlikely ever to work again. Can we terminate his contract of employment?
The answer to this one depends on why the employee is unlikely ever to be able to work again.
You can legitimately dismiss an employee who is unable to do their job because of sickness – provided that you have followed a fair procedure before doing so. This involves consulting with the employee, obtaining up-to-date medical evidence as to the prognosis, and considering whether alternative work could be offered.
If, however, your employee is suffering from a disability (as defined in the Equality Act 2010), then you are obliged to consider whether 'reasonable adjustments' could help them return to work, before you make any decision on whether to dismiss. The definition of disability includes long-term conditions such as HIV or Aids, multiple sclerosis, cancer and some forms of mental illness – such as dementia, depression, bipolar disorder, obsessive compulsive disorder and schizophrenia. In addition to considering whether you need to make reasonable adjustments, you should also ensure these conditions are covered by your equality policies.
If you fail to consider 'reasonable adjustments' under these circumstances, dismissal might well be discriminatory, as well as unfair.
Overall, termination may be lawful, but only if you have followed fair and reasonable procedures.
Under what circumstances do I have to pay sick pay?
You have to pay statutory sick pay (SSP) to all full and part-time employees, including agency workers on fixed-term contracts, temporary workers and casual staff except where, on the first day of the 'period of incapacity for work' (PIW):
their PIW links with a claim for certain other Social Security benefits, such as incapacity benefit.
they have already had (or been due) 28 weeks' SSP over a three year period with the same employer.
their average weekly earnings in the relevant period (calculated over at least eight weeks up to the most recent normal pay day) are below the National Insurance lower earnings limit (£120 per week).
in the case of a female employee, she is within the disqualifying period related to pregnancy.
they are away from work because of a trade union dispute
they are in custody.
they are outside the UK, and the employer is not liable to pay Class 1 National Insurance contributions.
they are a new employee, and have not yet done any work for you.
What can I require employees to produce by way of evidence that they are genuinely ill?
You are entitled to ask for reasonable evidence of incapacity, but should inform your employees of exactly what you want them to produce. For example, you might ask for:
self certification for spells of up to seven calendar days
a doctor's statement for periods after the first seven days (you cannot normally obtain a doctor's certificate for the first seven days)
A 'fit note' indicates whether an employee:
is not fit for work
may be fit for work
What is THE IMPACT OF HAVING AN ABSENCE ISSUE IN THE WORKPLACE?
As well as the high costs that occur with high absence levels, there are other issues that can occur when dealing with absences. These include:
Lower Productivity- as projects and targets can be delayed by employees not being at work.
Poor Quality – with employees covering absent employees' jobs, more mistakes can happen, leaving the quality of the work questionable.
Lowering of employee morale – due to increased workloads for the employees who are at work.
What is a return to work interview?
The RTW interview can be a useful aid in engaging with an employee after a period of absence – either a long-term absence or short term. Return-to-work interviews help to reduce unacceptable short-term absence. They send a clear message that absence is actively managed at the workplace and by asking employees to explain their absence face-to-face, they can also deter dishonesty.
A good return to work interview should:
Welcome employees back and check they are well enough to work.
Update employees about any changes that have taken place during their absence.
Identify any workplace adjustments that may be needed.
Develop, or discuss, the details of an agreed Return to Work Plan.
Confirm that their absence record is correct.
are there legal guidelines I should follow when it comes to absence?
Employers must ensure they do not breach the Data Protection Act2018 when obtaining, storing or using information about their employee's absence records. Any details regarding an employee's health, is categorised as sensitive personal information under the Data Protection Act.
Employers have a legal responsibility to make 'reasonable' adjustments to support any employees who have a disability or condition outlined in the Equality Act 2010, under the disability discrimination section.
Mental health can also be covered under this legislation.
Accessing employees' medical records from their GP requires employers to follow the Access to Medical Records Act 1998.
Benefits of choosing Clover
Planning ahead to help reduce your absence rate
Significant savings can be made through the effective and thoughtful management of sickness absence, whilst promoting your employer brand and the desired culture of your business. Not only can effective absence management help your business save money, it can also aid with employee engagement by minimising the negative effects that a high absence rate can have on a small business.
Your local HR support company
Getting it right – first time, every time.
We understand that every client is unique with their own individual strengths, weaknesses and challenges. At Clover HR we do not operate a 'one-size-fits-all' approach but take time to get to know you, to discover what makes you truly great, learn where there is room to develop and understand the specific challenges you're facing.
Once we have been on that journey, we then work with you to create a roadmap of support so you can get the very best out of your people and have peace of mind knowing that we are walking alongside you. We will help you put the right contracts, documentation and processes in place to ensure that you, and your team, have the right frameworks of support and a sound legal foundation on which to move forwards.
We don't just simply help managers and leaders to become legally compliant employers. We form strong relationships with our clients and actively partner with them to deliver positive change, creating a culture that gets the very best out of their people within a framework that protects both employer and employee.
ABSENSE MANAGEMENT ARTICLES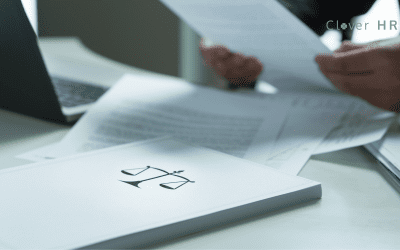 Employee absence is a significant cost for many businesses, yet research suggests that only a...
To be outstanding, trusted people
advisors and partners to business every
day
Through honest, focused, responsive and innovative HR support, we will transform people problems to solutions, enabling our clients to be employers of choice with an engaged and motivated workforce.
looking for something else?